Partnering with Publishers
to Deliver the Digital Future.
More than 10,000 publishers and content creators trust RedShelf to quickly transform their content into dynamic eBooks, and to efficiently distribute their digital titles across thousands of campuses and businesses, as well as online. As one of the nation's leading providers in the space, we offer unparalleled reach and a comprehensive range of tools to help you maximize your digital future.
Quickly convert your ePub files into dynamic eBooks on the RedShelf eReader. Enhance your content even further by embedding assignments, quizzes, and more with RedShelf Classroom.
Eliminate the need to maintain your own integrations with college Learning Management Systems. Integrate just once via RedShelf LINK, and your courseware products will become immediately available to learners on thousands of campuses nationwide.
Leverage RedShelf Collections to bundle multiple titles into a package to be sold under a single ISBN.
Enjoy vast distribution on roughly half of all campuses nationwide, in wide-ranging corporations and businesses, and through direct-to-consumer eCommerce.
Leverage RedShelf Partner Dashboard to manage and improve your catalog of available titles, while gaining real-time insight into national pricing and sales performance.
Instantly transform your print titles into dynamic eBooks.
In just minutes, RedShelf will ingest your content and publish it on the best-in-class RedShelf eReader. Packed with built-in study tools and accessible online or offline, our eReader brings your books to life and supports learning in ways that print simply can't.
Anywhere Access, Any Device

Keyword Search

Highlighting

Note-Taking & Sharing

Study Guide Builder

Flashcard Creator

Definitions

Citations

Text-to-Speech (Read Aloud)

Usage Analytics
Enhance the appeal of your eBooks even further.
Upgrading your RedShelf eBooks to RedShelf Classroom drives incremental revenue by giving instructors a simple, compelling way to engage with students and monitor learning, even outside the classroom.
Create and insert notes throughout the eBook content to guide students' focus

Add multimedia assets to provide supplemental learning

Embed quizzes and assignments to gauge comprehension of the material

Include automated feedback and explanations for incorrect quiz answers, to support understanding

Access analytics at the course, section, and student level, to monitor usage, identify at-risk students, and inform classroom instruction

View and manage all Classroom-enabled courses and related materials from a single dashboard

Empower students with their own dashboard for tracking their assignments and performance
Simplify your courseware integration efforts.
RedShelf LINK dramatically reduces operational burden by eliminating the need for your organization to build and then maintain separate integrations with every university's Learning Management System.
Integrate just once, with RedShelf, to instantly reach thousands of campuses nationwide.

Enable immediate enrollment, provisioning, and de-provisioning.

Provide students with automatic, frictionless access to your products, eliminating additional set-up and financial aid tasks.

Simplify the process of tracking enrollments, opt-out numbers, and billing information for each individual campus.
Bundle products to expand sales opportunities.
Our RedShelf Collections tool improves sell-through by providing a more convenient and attractive purchase option for titles that are frequently purchased together.
Create digital packages of commonly adopted eBooks and/or courseware, for sale under a single unique ISBN

Bundle course materials for entire academic programs at particular schools

Assign competitive bundle pricing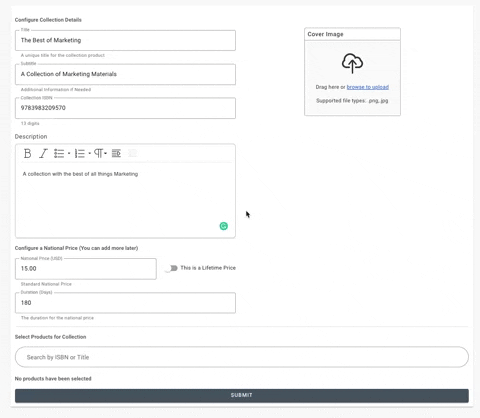 RedShelf

Partner Dashboard
Monitor and optimize your performance, all in one place.
Leverage a single administrative dashboard to manage your catalog and maximize sales opportunities in real-time.
Upload new content/titles for digital distribution

Send unlimited samples instantly and easily, and monitor sample usage

View processing reports for insights into why items are not yet available for adoption or have failed digitization

Receive and respond to specific prompts for actions that will increase discoverability

Respond to pricing and product requests from RedShelf partner campuses

Monitor nationwide pricing and sales performance, with the ability to sort and filter by college, sales channel, title, and more

Reinstate withdrawn or deleted titles, making them available for adoption
To explore how RedShelf's tools and technology can help you maximize your digital future, click below to request a complimentary consultation and demo.