Partnering with Publishers to
Deliver the Digital Future.
More than 10,000 publishers and content creators trust RedShelf to quickly transform their content into dynamic eBooks that we then distribute on thousands of campuses as well as online. As one of the nation's leading providers in the space, we offer unparalleled reach, best-in-class technology, and a comprehensive range of tools to help you maximize your digital future.
Quickly convert your ePub files into a dynamic eBook on the RedShelf eReader. Enhance your content even further by embedding assignments, quizzes, and more with RedShelf Classroom.
Leverage RedShelf Collections to bundle multiple titles into a package to be sold under a single ISBN.
Provide students seamless, single sign-on access to your courseware environment through RedShelf LINK.
Enjoy distribution at thousands of campuses through Inclusive Access, Point-of-Sale, and eCommerce.
Leverage RedShelf Partner Dashboard to manage and optimize your catalog of available titles, and gain real-time insight into national pricing and sales performance.
A Leader in
Digital Distribution
Digitizing content from 10,000+ publishers and content creators

Distributing nearly a million digital titles (both eBooks and courseware) at 1,500 colleges and universities nationwide, as well as online

Nation's most utilized Inclusive Access platform among independent college bookstores

Primary digital provider to all Follett-managed stores
Packed with built-in study tools and engagement features, our eReader brings your books to life in ways that print simply can't. Students enjoy access to your content from any device, online or offline.
Online & Offline Access

Highlighting

Note-Taking & Sharing

Study Guide Builder

Flashcard Creator

Definitions

Citations

Text-to-Speech (Read Aloud)

Quizzes

Analytics
Known as our Content Delivery System, our distribution software is used by our campus and publishing partners to streamline and simplify the many complex workflows involved in discovering, pricing, selling, delivering, and billing for course materials.
Catalog Management

Discovery & Adoption

Pricing Requests & Submissions

Inclusive Access, Point-of-Sale, and eCommerce Distribution

Sales Performance Tracking

Student User Analytics

Billing & Reconciliation
Our

Distribution Software
Monitor and optimize your catalog in real-time.
Partner Dashboard lets you view, build, and support your catalog from a central location, to more efficiently respond to campus needs and shifting product demand. The tool enables you to track national pricing and sales data and to make adjustments to your catalog of available products at any time.
Upload new content/titles for digital distribution

Respond to pricing and product requests from Inclusive Access partner campuses

Monitor nationwide pricing and sales performance, with the ability to sort and filter by college, sales channel, title, and more

Take recommended actions—such as including specific metadata with titles—to increase product discoverability
Send unlimited samples instantly and easily

Reinstate withdrawn or deleted titles, making them available for adoption

View processing reports to get insights into why items are not yet available for adoption or have failed digitization

Withdraw PDFs when more accessible ePubs become available

Receive and respond to specific prompts for actions that will increase discoverability
RedShelf

Partner Dashboard
Bundle packages of eBooks and digital courseware to increase sell-through.
With RedShelf Collections, you can create digital packages of eBooks and digital courseware for sale under a unique ISBN and offer more convenient purchase options for commonly adopted titles.
Offer competitive pricing for bundles of eBooks and/or courseware to increase sell-through

Ensure students acquire all required course materials in a single purchase

Strengthen long-term partnerships with schools by bundling course materials commonly used in entire
academic programs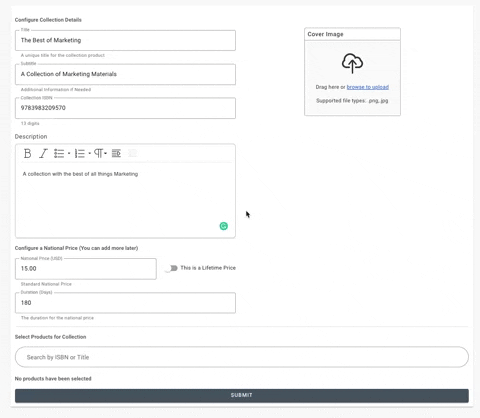 Create an engaging learning environment for instructors and students.
Upgrade your RedShelf eBook to RedShelf Classroom, to further enhance your content and provide instructors a way to interact with students and monitor learning even outside the classroom.
Create and insert notes throughout the content to guide students' focus

Embed questions and assignments to gauge student comprehension of the material

Include automated feedback and explanations for incorrect answers, to ensure understanding

Add images and videos into questions to create a more dynamic experience

Access eReader usage and quiz performance data, to monitor engagement and comprehension, identify at-risk students, and inform classroom instruction

Add a Teaching Assistant to your "classroom" to assist with creating quizzes, assignments, or running reports
If you are an existing publishing partner seeking detailed information regarding tools, setup, and more, contact your RedShelf account manager or visit RedShelf Solve.
​
If you are a publisher looking to establish or expand your eBook offerings and/or integrate your courseware environment with campus Learning Management Systems, contact us at the link below.